Heading home today. Can't wait. Was good to see family but I am so done with Toronto.
Back home. I can't remember the last time I was so happy to be here. The cat has surgery on Saturday. I need to be here right now.
welcome home
sorry to hear about your cat, may she recover completely
The cat's surgery was successful. She's still in hospital. She comes home tomorrow if all goes well. She's a tough old girl.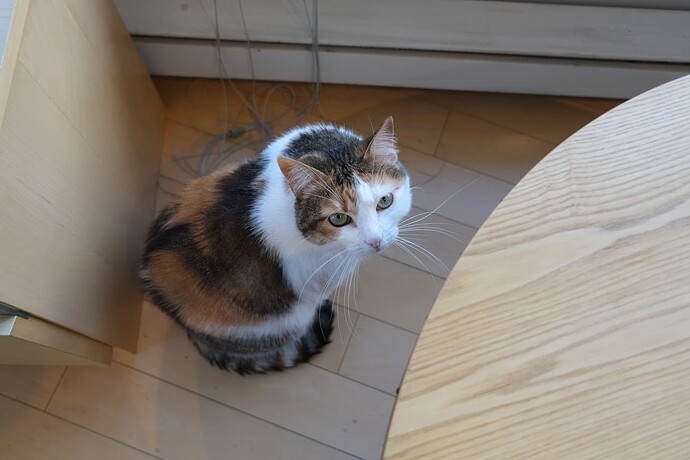 PS: No, that's not our home. I would never let cords be so untidy. lol.
I'm in pompano beach, florida. I've been here since Saturday night. We are heading to savannah tomorrow, Virginia on friday and home on saturday. We drove to pompano. It was a total of 26 hours in the car in 2 days, which was cheaper and quicker than flying as it seems like most flights to Florida were canceled for days, due to staffing. They were also $800 round trip.
I am no longer up for 26 hours in a car, even over 2 days. Sounds like a pleasant place, though.
I'm surprised the tickets were so expensive. Flying seems cheap lately.
It's april vacation week, so it is always very expensive.
The drivers from worst to best went…
Connecticut
New Jersey
Florida
Virginia
Delaware
Maryland
New York
Massachusetts
Georgia
South Carolina
North Carolina
I left New Hampshire off the list, since it was only 5 miles."
whew Washington isn't on that list.

this guy is so full of shit
everybody knows the mind works because of the hunchback of notre dame
Flying to Calgary tomorrow for no reason at all. Just going in the morning, renting a car, driving around, and then flying home tomorrow night. I haven't been to Calgary for ages. Should be fun.
Usa got rid of needing a covid test result to get in.
I saw there's a new discount airline in Canada called Lynx Airlines. Impossible prices. $39 to Calgary. I said to Isa, let's try it. She asked what we had to do in Calgary. I said, "Nothing, but I want to see if this is real." We landed in Calgary, picked up a fun little BMW rental, drove around all my old haunts, saw the old places where I had lived many years ago, had dim sum at my favourite restaurant which hasn't changed a bit in 25 years (a good thing in this case), drove out to Banff, then flew back that evening. A wonderful day and yes, they really only charged us $39 each. It wasn't luxury travel but I am caring less and less about that as I get older. It was fun. I think we'll do a day trip to Edmonton next.
You've gained weight. Apparently you're eating more than one salad a day.
True. I am 90 kilos. Hard to stay trim in Canada.
No doubt, where you live plays an active role in how important your health is.
How are you handling pride month in Vancouver? Is it back to normal without restrictions?
Our gross parade is on July 31 this year. Yes, it is back without restrictions. Expect a full Sodom and Gomorrah show. Thankfully there seem to be no other events planned for the month.