I'm not. I see this Twitter deal destroying him.
Really? How so? He's the worlds wealthiest man.
He hasn't been the same since he did this stupid thing. Twitter is bleeding cash. Tesla has lost 65% of its value in 2022 because everyone sees Elon focusing on the new shiny thing. Shareholders are openly calling for a new CEO since Elon can't stop obsessing over Twitter.
The Twitter Files has probably been a distraction but I noticed he has paid off half his Twitter debt in 4 months. In another 4 months his debt may be gone and Twitter will be all profit. I haven't read the Twitter Files, yet, so I don't know if or when more are supposed to come out about all that but I do believe when that part is over, Musk will be able to commit more time to Tesla. I mean, I don't think Musk is going to allow the Twitter Files destroy his business, even though his service in producing those files are more important for the global community. I am a little surprised at his distraction though. It does seem like he Tweets a lot.
So I went back and looked at Tesla stock over the course of 5 years. At its peak, it was $800.00. I owned shares of that stock when it split Nov, 2021, to $407.00. Tesla has been in decline ever since, if you believe the chart below. The point is, for more than a year Tesla has experienced a great deal of hurdles, including the pandemic. This is not something that just happened. IMO, those CEO's support censorship and Musk stands in the way of that with Twitter. If they can get Musk off the Board and Twitter goes bankrupt, it's a win for them and Globalism.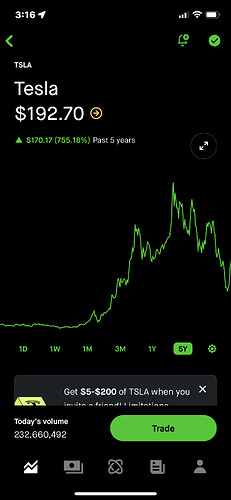 I don't know where you got that. He paid off $300 million on debt of $12.5 billion (call it 2 percent, not half). (Source)
Yes it is. On April 22, 2022 when Elon made his first Twitter stock purchase, Tesla stock was worth $336.26. It ended the year at $123.18. That is a loss of 64%. It has since recovered to $189.98 today, still a loss of 44%.
The total stock sold by Musk since April when he moved to buy Twitter now stands at $22.9 billion.
My bad. You're right, this time lol.
Elon is a pendejo. Mocking someone who has muscular dystrophy is Trump-like.
Elon is now supporting that weird Chansley guy. He might be right on this one, though. I'm not sure.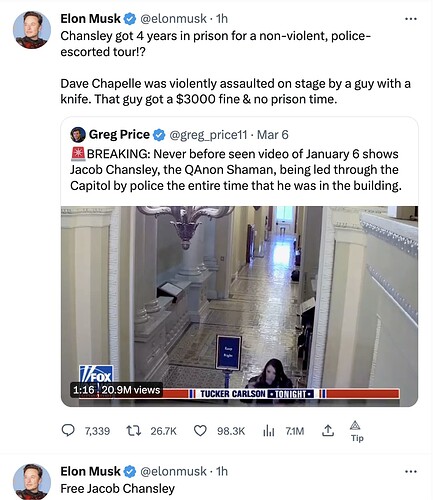 Elon is becoming seriously weird. Cult-like.
Elon is sounding more and more like Trump.