This isn't chilling at all.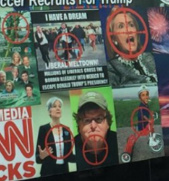 Michelle, does your vehicle look like this?
Today Trump said, "Americans must unify and we must show the world that we are united together in peace and love and harmony as fellow American citizens".
I think I am going to hurl.
It does! Only the faces have changed.
His parents had kicked him out and he was living in his van (down by the river).
What faces do you have pray tell.
It matters not as long as the targets are on the correct faces.
Sounds like you are advocating violence against certain people. Whose faces would you consider to be the correct ones?
Nonsense! I was out back target practicing last night so I was just being a smartass.
This is exactly the kind of BS you would believe. My only suspicion would be that by recently becoming a republican he is trying to set up his insanity defense.
You need to stop telling me what I believe. And I agree! Only an insane Democrat would pose as a Republican and send bombs to his own people. I can tell it's going to be a long day.
In truth he is an insane Republican. And yes, it could be a long day.
On further reflection, I'm not sure what a sane Republican would look like.
You need to stop telling me to stop telling you.