I'm sad to report the death of my friend, William Sellers aka MyBigMoon. I got an email from Angie, his partner of 22 years, informing me of his death (see below with her permission). I called her immediately and we spoke for the better part of an hour. She's heartbroken and sad.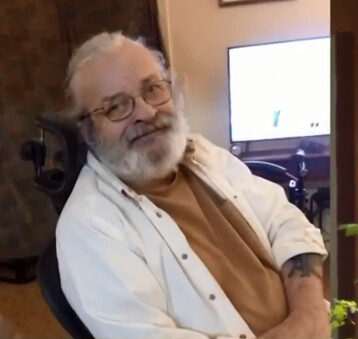 William Sellers
She asked if I could post some photos/articles here that she would send me. I gratefully agreed and will do so when she is able to.
On a personal note, I loved Will and valued his friendship greatly. We had never met in person but we spoke on the phone many, many times and I always looked forward to the next time we'd talk. Will had a short fuse and didn't suffer fools kindly but his ardent support for universal healthcare and justice always inspired me. He may not have been perfect but his good outweighed his bad by a wide margin.
Will did not go out quietly. See below. Angie does not accept the police story and I believe Angie. I will post more when she sends it. Until then, I'll just say that I will miss Will badly.
Please Note: There is no free speech in this thread. Unkind comments will be deleted.